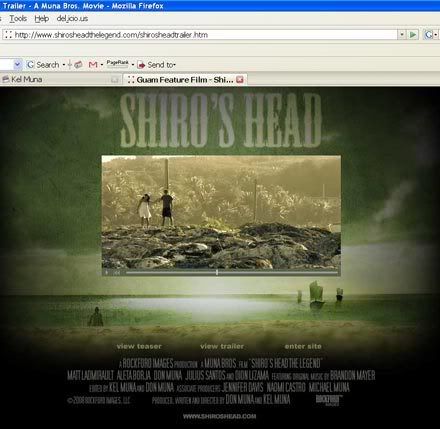 The Shiro's Head Official Trailer has been launched this week and I just wanted to take a moment to give my deep and sincere thanks to EVERYBODY for all of your responses. I would also like to thank you all for being extremely supportive and interested enough to come along for the ride while we were making Shiro's Head. From our island brothers and sisters at home on GUAM to Germany, US, Japan, Australia, Brazil, England, France and the rest of the appreciated folks out there - you don't know how much your responses have meant to me and Don - especially after the grueling journey of making such a small, no-name, no-budget DIY film on our own. It's been a long 2 years, but I still wouldn't have done it any other way.

This is a milestone for us at this point in the project and I just wanted to say thank you for being there and for showing your support, your interest and even just dropping in lines to say 'what's up?'. It really means a lot to us and motivates us to keep going when we lose steam.

If we're lucky enough, we'll be able to have a screening for the deep roots on Guam that made all of this possible. Until then, Don or myself will be keeping you posted while I enjoy this little break and reflect on all that's been accomplished so far. So from me to all of you...I just want to say THANK YOU! and stay tuned for more...